Yesterday I received a very confusing message that I don't know if I should respond to it or not. My fear is not that I don't understand what they are requesting me to do, my real concern is that I can't really tell if the message is truly from the bank or it's just another cloned message from a fraudster.
These days anything can happen. A few days ago I was listening to a recorded conversation between a man and a fraudster who was trying to obtain some secret information from him in order to gain access to his account.
According to the audio record, the 419 guys called the innocent man pretending to be a staff from his bank who was working to help me received the N10,000 the Federal Government was sending to Nigerians.
He started by requesting for the expiration date of his ATM card and then went on to request for the ATM card number. He said that they need him to confirm his ATM details in order for them to upgrade his ATM card which will allow him to receive the money. Unfortunately for him, the man quickly suspected his intentions and deliberately delayed his response. ‍
When the 419 guys could no longer bear the incessant delay, he became angry and consequently busted his own identity. That was how the man escaped that fraud.
That man's case is just one of the several stories I have heard about fraudsters trying to gain unlawful access into people's accounts in order to defraud them of their hard-earned money. Last week I heard from the radio of one retired civil servant in Benin City who was defrauded over one million naira using the same trick.
Just yesterday evening I received the message from the same channel Access bank has been using to send me message that I should send them my identity details in order for them to update my KYC level. They even gave me a date, a sort of a deadline I can't really tell. Here is the screenshot of the message.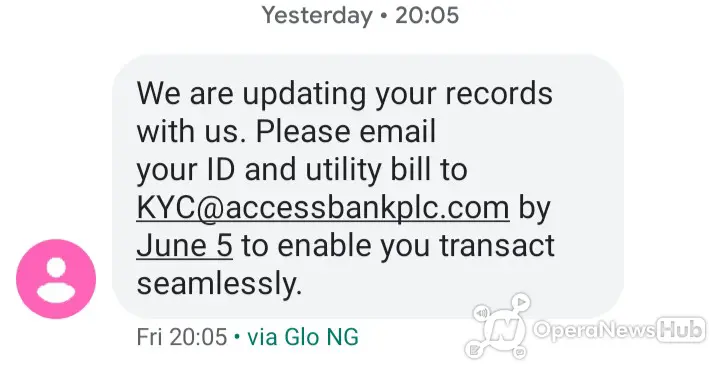 One of the reasons why I am disturbed is that I have heard and read several times that I should not send my details pertaining to my financial account to any number. Another interesting part is that the message came from the same number (Access Bank) which I have been receiving alerts of my banking transactions from.
Is it not possible for fraudsters to clone the massage and make it appear like it's from my bank? Of it is truly from my bank, why did they not ask me to come to the bank instead of requesting me to send it to them? These are the questions I have been battling to provide answers to since yesterday.
Please I need your advice on this issue. What do you suggest I should do? I don't want to lose my money at this time when everything in the country is very tight. Please help me to share this article with as many as you can